Attitude Salon    
Welcome to Attitude Salon. We are located in downtown Chiloquin next to the Post Office.
PO Box 718
218 South First Ave.,
Chiloquin, Oregon 97624
Phone:  541-783-2101
E-Mail: [email protected]

Pam McConathy, owner

Mary Stohr, former owner, now stylist

Stephanie Galer, esthetician & nail tech

Hours:
Monday thru Saturday: 9:00 AM to 5:00 PM
Sunday and Evenings: by appointment

Walk-ins are always welcome
Attitude Salon has been home to an extensively trained and knowledgeable staff with a host of special services to meet the needs of our clients since 2005.
We have the Jan Marini Skin Care Line and the Mirabella Makup line available for sale. Ask about pricing on the Beverly Hills Blow Out – A new hair smoothing system!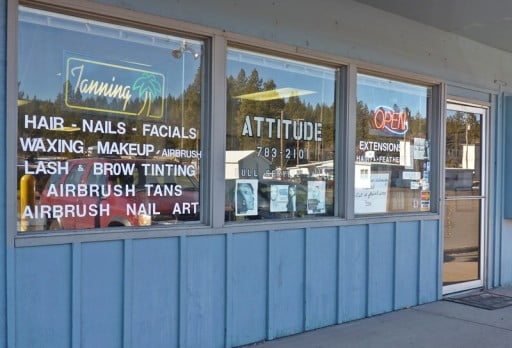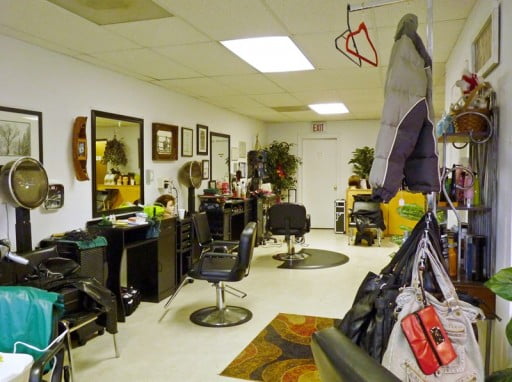 Hair Services
Women's Cut:
$15
Styled:
$18
Men's Cut:
$12
Buzz cut:
$10
Children's Cut (12 and Under):
$10
bangs or Neck Trim:
$5
Shampoo Set:
$15
Regular Perm:
$50
Spiral Perm (two Solutions):
$65.00 & Up
Chemical Relaxer:
$50.00 & Up
Full Head Color:
$35.00 & Up
Color Retouch:
$32.00 & Up
Highlights (weave):
$55.00 & Up
Touch-Up (weave):
$45.00 & Up
Half-Head (weave):
$45.00 & Up
Full Bleach (Women):
$35.00 & Up
bleach Touch-Up:
$32.00 & Up
Semi-Permanent Color:
$25.00 & Up
Toner:
$10.00 per Oz.
Bleached Tips (Men):
$10
Bleached Top (Men):
$15
Whole Head Bleach (Men):
$20
Up-Dos:
$25.00 & Up
Set with Any Service:
$5.00 More:
also: Hair Extensions - Wefts, Fusions, Beads

Skin Care Services
Rejuvenating and Refining Facial - All Skin Types:
$40
Aroma therapy Facial:
$40
Glycolic Resurfacing Peel:
$50
Age Intervention Skin Lightening / Resurfacing Peel:
$50
Parafin Facial - Normal to Dry Skin
$40
Acne Facial Treatment:
$35
Beta / Alpha Hydroxy Peel Treatment (medium):
$60
All treatments are available in series to maximize results featuring Jan Marini Skin Research Professional Grade Products for facials, peels and home maintenance programs.
Waxing
Brow:
$10
Chin
$5
Upper Lip
$5
Underarm:
$17
Lower Arm:
$20
Bikini:
$22
Extended Bikini:
$30
Brazilian:
$45
Legs - Knee and Below:
$30
Full Legs:
$45
Tinting
Lashes:
$18
Brows:
$15
Makeup
Makeup
$25
Airbrush Makeup
$35

| Nail Services | |
| --- | --- |
| Manicure: | $20 |
| Pedicure | $30 |
| Polish Change: | $10 |
| Full Set French | $45 |
| Full Set of Acrylics (Pink & White): | $50 |
| Full Set of Acrylics (Clear with Polish): | $40 |
| Acrylic Overlay (Over Natural Nails): | $35 |
| Gel Nails: | $40 |
| All Fills: | $22 |
| Double Fill | $27 |
| Repairs (Each): | $4 |
| Soak Off: | $15 |
| Acrylic Nail Art (each) | $2 |
| Nail Art (each): | $1 |
| Toe Nail Trim | $10 |
| Fingernail Trim | $10 |

Tanning Packages
One Tan:
$4
Four Tans:
$14
Six Tans:
$18
Ten Tans:
$25
Fifteen Tans:
$30
Twenty Tans:
$35
Thirty Tans:
$40
Airbrush Tan:
$35 & up
Please Note: All tanning packages will expire within six months from date of purchase.
Massage
$45 per hour